The future of education is here. By now, virtually every faculty member has turned to online instruction. Doing so was a matter of urgent necessity in the spring, as COVID-19 silenced classrooms and emptied campuses. Now, online learning is part of a comprehensive long-term game plan to make the UNC System more resilient and more responsive to both student and faculty needs.
That's why representatives throughout the System have spent the summer collaborating to support three innovative initiatives, housed under the umbrella Digital Learning Enhancements project. Together, these initiatives will help the institutions expand options for hybrid teaching or fully online courses. The $5 million in funding for the initiatives comes out of the $44.4 million earmarked to the UNC System through the North Carolina legislature's allotment of roughly $4 billion in federal CARES Act relief funds.
By strengthening online instruction, institutions will be more adaptable to the challenges COVID-19 presents. The initiatives support the System-wide emphasis on a hybrid approach to instruction, which employs both in-classroom and online learning. This increased mix of remote learning technologies will ease the strain on classroom space and enable physical distancing. And, in the event that circumstances change, institutions will be ready to pivot to fully online instruction, quickly and effectively.
"Student-focused and effective yet flexible teaching is our guiding principle. We are fully committed to in-person instruction in the fall. But, COVID-19 presents ever-evolving challenges. These initiatives will ensure that the faculty and staff remain nimble and responsive to student needs," explained Dr. Kimberly van Noort, senior vice president for Academic Affairs and chief academic officer. "Just as importantly, they will give faculty an expanded repertoire of teaching tools, resources, and best practices that will help make courses more dynamic and enhance student success well into the foreseeable future, long after the threat of the pandemic has subsided."
SHARPENING DIGITAL COURSE DESIGN
"By our calculation, we've already directly impacted more than 600,000 student credit hours, and that's just for starters," exclaimed Dr. Jim Ptaszynski, UNC System vice president for Digital Learning.
What provoked Ptaszynski's excitement? When the UNC System initiated a series of intensive workshops designed to promote successful teaching online, faculty and staff responded with an enthusiasm that far exceeded expectations.
"The return on investment has been incredible," said Ptaszynski. "We've had more than 1,400 faculty and staff to participate, representing every constituent institution. Imagine how the impact will continue to grow exponentially as these participants share what they've learned and as other faculty access the material we're making available online."
The UNC System's Digital Learning Initiative (DLI), working in collaboration with UNC-TV, designed the workshops to help participants "practice what they teach." The lessons were interactive, hands-on, and immersive learning experiences that modelled what any good online learning experience should look like. Over the course of seven two-hour modules, participants engaged in structured activities, through which they created usable course assets.

The initiative began with UNC System leadership and Faculty Fellows seeking out input from instructors, the Faculty Assembly, faculty development centers, and students at constituent institutions. Taking faculty and staff needs into consideration, organizers shaped the workshop material so that it focused on the essential topics any faculty member needs to get a course online quickly and effectively.
The first cohort completed the workshop earlier in July, and the second cohort is finishing up this week. In addition, the workshop materials will be archived and freely accessible to all UNC System faculty and staff through the academic year.
Crucially, the workshops aren't just stirring a passing interest among faculty. They are generating enthusiasm. The workshops are self-paced, and more than one of the participants found it difficult to resist plowing through the content at lightning speed, because the material was so inherently fascinating.
"This content was absolutely excellent. The design of the course was so engaging that I had to keep going," said East Carolina University Clinical Associate Professor Elizabeth De Jesús Toderick. Although Toderick outpaced many peers in her cohort, she took care to circle back to join ongoing forum discussions and to offer support to others.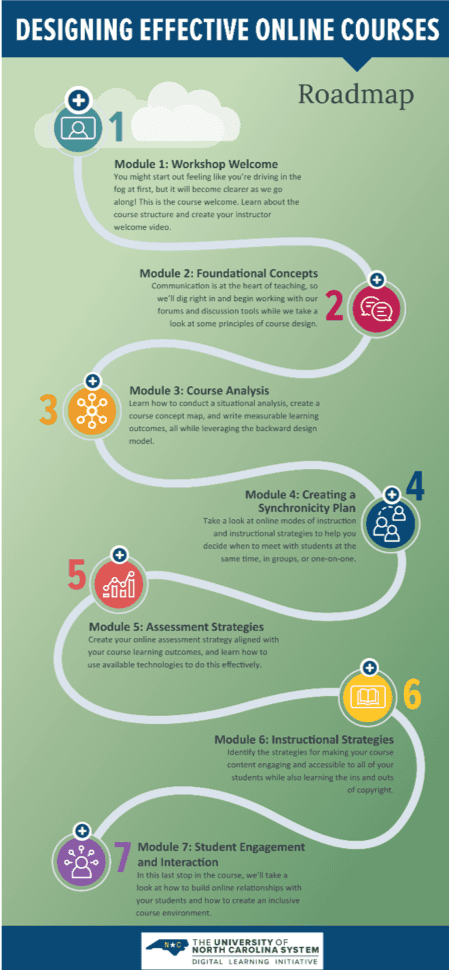 BUILDING THE DIGITAL COURSE LIBRARY
Even in large, face-to-face classrooms, good lectures are interactive. Instructors can ask questions. They can spontaneously break out into group work sessions. They have an immediate gage on when interest or comprehension starts to flag, and they can react immediately to keep students involved.
Recorded lectures, however, are not the same as in-person discussion. Experts have long understood that effective digital course design requires instructors to do much more than record lectures and upload assignments. Even those instructors who excel in the traditional classroom can find it challenging to compile materials and exercises that are comprehensive enough to ensure that students master course content, and diverse enough to ensure that students actually pay attention.
This summer, faculty and staff teams from across the UNC System collaborated to build ten open resource Digital Course Enhancements Resource Collections, designed to support both face-to-face and online instruction. Each collection complements a high-demand course commonly offered across most UNC System institutions. In fact, almost all UNC System students will pass through at least one of these courses during their tenure as an undergraduate student. The materials have been rigorously vetted and curated by faculty, cataloged and tagged by librarians, and designed and organized by instructional design staff.
"With more than 70 experts from our institutions working in discipline-specific teams, this project represents one of our largest collaborative efforts in recent memory," said Dr. Andrew Kelly, senior vice president for Strategy and Policy. "Each collection consolidates decades of accumulated teaching experience and a wide array of perspectives to improve how we serve students at all our institutions—this exemplifies what we can accomplish when we act together as a system."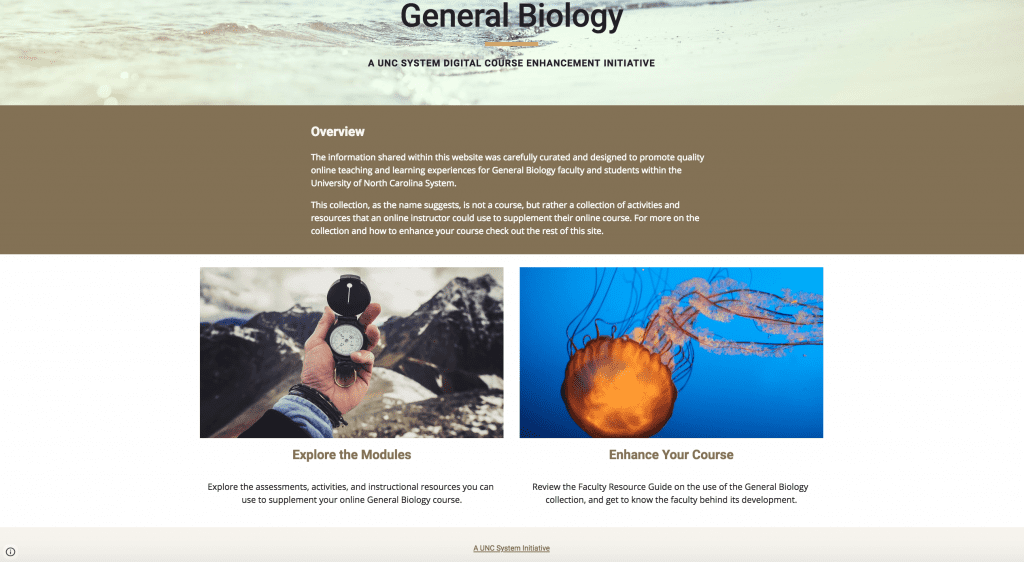 The digital enhancement collections specifically support ten high-demand courses that are common across most UNC System institutions: Introductory Financial Accounting, Anatomy & Physiology 1, General Biology, Calculus 1, Chemistry 1, Chemistry 2, Organic Chemistry 1, Macroeconomics, Microeconomics, and Introduction to Statistics.
Each collection features a range of open access content, from educational texts, videos, slides, software, virtual labs, and other digital materials, which vary depending on the subject matter. Instructors will also find content created to support teaching best practices, including assessment tools, assignments, and strategies for using the resources. Each collection is organized into individual modules, topics, and learning objectives so that instructors can adopt the content as a whole or choose portions that best suit their needs.
Organizers understand that the work of preparing for the upcoming academic year has been especially intricate this summer. Not only will these collections make the work of innovating and improving online instruction more manageable—they will ensure that these efforts are more successful too. With this rigorous and planned course content in hand, STEM and business faculty will have more time to devote to their students and teaching innovation.
"Faculty professional responsibilities vary widely from institution to institution, and from department to department. But we are all extremely busy. This is to say nothing of the personal responsibilities that every faculty member must attend to. Quite simply, it would be a challenge for virtually anyone to generate a list of open-access materials that is as comprehensive, or of such high quality, as what these teams have put together," said Dr. Gerald-Goins, associate professor in North Carolina Central University's Department of Chemistry and Biochemistry and one of the collaborators who helped compile the Chemistry 1 collection.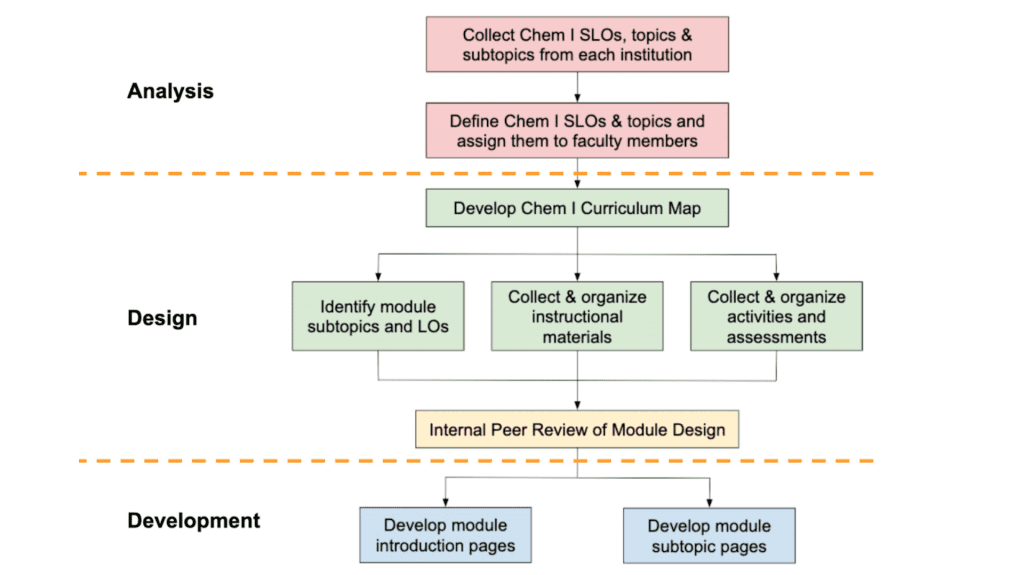 "Speaking personally, I was excited by this project because, for the past four years. I was the primary caretaker for both my parents. That was a lot, plus being married and having a family. It's been hectic for me," she explained. "So, for me, working on this project was great because I got a chance to see all that was available to me as a chemistry professor. Learning about some of the resources that are out there was eye-opening. And being able to work with people from across the UNC System—who offered different perspectives and do different things in the classroom—gave me new insights. I'm confident that even the most experienced instructor will learn something new after delving into these materials."
These resources have been made available to any faculty member or grad student instructor teaching one of the targeted courses. Availability will continue into the fall and spring semesters. The teams created user guides to each collection, and UNC System leadership organized and recorded a series of webinars to give interested faculty a guided tour through the resources available to them.
Faculty and staff interested in learning more can visit the Course Collections landing page and explore the completely open educational resources by clicking on the courses listed at the bottom of the page.
BUILDING STUDENT SUPPORT ACROSS THE DIGITAL DIVIDE
The quality of instruction isn't the only factor that contributes to academic achievement. For many students, success depends just as much on the support mechanisms available to them outside the classroom.
Before COVID-19 began to impact the higher education landscape, UNC System graduation ratesand student success metrics had climbed steadily toward record numbers. But, with the sudden move to remote instruction and services in the spring, most students faced new challenges. In the fall semester, many will need ongoing strong support services to help them stay on track to a degree in a new environment where academic, technological, financial, health, emotional, and psychological obstacles sometimes seem to proliferate exponentially.
This summer, the UNC System launched the Virtual Student Service Initiative to strengthen the resources that can help students overcome these challenges. The initiative specifically supports institutional efforts to expand and enhance virtual student coaching and tutoring services.
Virtual tutoring gives students "on-demand" access to academic help for more immediate curricular challenges. Success coaches, on the other hand, work with students on a regular basis. They help students establish clear postsecondary goals, make decisions to reach those goals, and to develop skills that lead to long-term academic success. Studies indicate that both types of support increase student success rates.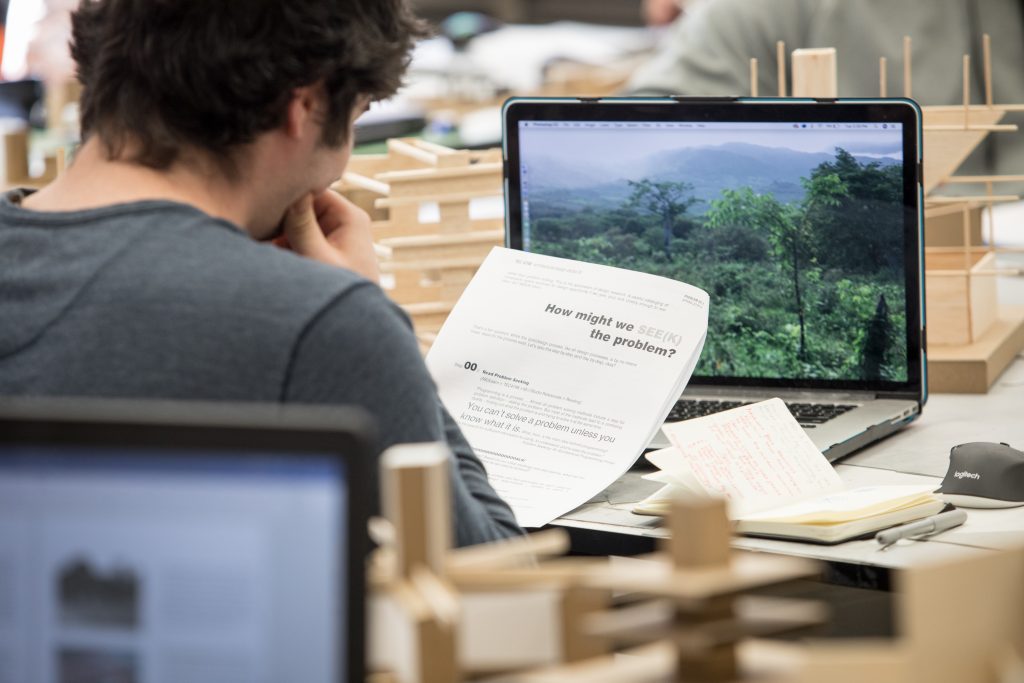 This spring, the UNC System invited institutions to submit grant proposals to scale up or develop new coaching or virtual tutoring options. All UNC System institutions were awarded grants to support new or expanded initiatives, totaling nearly $2 million, funded through non-recurring funds.
"This work is really exciting, because it reflects the growing recognition that, when it comes to student support, one size certainly does not fit all," explained UNC System Director of Strategic Academic Initiatives Eric Fotheringham. "The traditional mode of advising, which can be process-oriented and focused on issues related to course registration and choosing a major, serves some students well. But other students really benefit from the hands-on problem solving that a student coach can offer when support is needed outside of academics. Similarly, the virtual tutoring support is a great way to expand institutional efforts to academically support students on-demand, whether through a partner organization or with university staff."
Coaches intervene on any number of issues to keep students on track toward degree completion. They help those at risk of "stopping out" re-engage with their studies. They help students facing sudden economic challenges find the financial support they need to complete their studies. When coaches don't know the answer to a question, they put students in contact with university staff who do.
As part of the Virtual Student Service Initiative, the UNC System Office has partnered with InsideTrack, a student success company focused on improving enrollment, persistence, completion and career readiness, to provide training for student coaches. More than 160 student coaches from across the UNC System are registered for workshops in August and September to learn the InsideTrack methodology for identifying and proactively reaching out to vulnerable students.
EXPANDING AWARENESS, EXPANDING AMBITIONS
The constituent institutions will be resuming in-person instruction in the fall, but the Digital Learning Enhancements initiatives will ensure that teaching across the UNC System is flexible enough to adapt to the ever-evolving challenges COVID-19 presents. By expanding awareness of available digital content and remote learning course design principles, UNC System leadership hopes that these initiatives will have a long-term impact on instruction.
Not surprisingly, the UNC System is already pursuing initiatives that will capitalize on the momentum these initiatives have generated. Three additional course collections to support gateway and entry level math are already under development: Pre-Calculus, Calculus 2, and Quantitative Literacy.
In the near future, DLI will begin development of six adaptive learning courses. In the traditional classroom, instructors have the capacity to recognize and respond to individual student needs. Online courses often lack this level of personal engagement. Adaptive courseware is engineered to help pinpoint where and why students are struggling. Once it has identified the source of the student's difficulties, the courseware directs the student back to content that covers the locus of the problem.
The first cluster of adaptive learning courses will include three courses featured in the Enhancements Collections (Chemistry I, Chemistry II and Organic Chemistry) and three additional engineering courses (Physics 1, Statics, Dynamics).
Moving to an adaptive framework will once again require faculty and staff collaboration from across the UNC System. This input will help re-design courses with an eye toward creating a blueprint of their intellectual "architecture," which will guide how the courseware directs students.
The work across the System this summer has underscored how, when it comes to teaching, technology and human interaction aren't mutually exclusive tools. The real power to promote student success comes from blending the two.